The other night whilst working late in the Toypedia offices doing research, I heard a rustling in the garbage bin. Fearing the worst, I crept over and dumped it with my foot. To my utter shock and bewilderment, a little, chubby red fellow tumbled out with the contents. I stared at him wide-eyed and speechless.
"Well?" I finally asked.
The little bugger scratched his head, burped loudly, and said, "Muncy."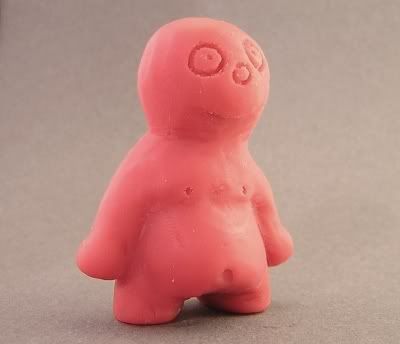 Toy Line
: Custom Figure
Sculpt Name
: Muncy
Color
: Red
Favorite Food
: Cheeseburger Sub
Collectors Note
: Muncy was made out of candle wax by me, Soupie. I had reference sketches, but ended up using the 1991 Series Nachiguron Kinkeshi figure as a model. Hopefully Muncy is the first of many (amateur) custom mono-colored mini-figs to come.
Birth of Muncy