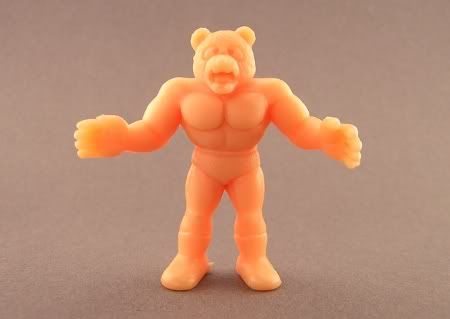 Toy Line
:
M.U.S.C.L.E.
Sculpt Name
: Pandaman
Color
: Faded Orange
Collector's Note
: This is the only M.U.S.C.L.E. figure that I still own from my childhood collection. As with all my M.U.S.C.L.E. figures, I acquired it by trading something for it to one of my friends. This figure is actually faded in the front, presumably from the sun. It was always my favorite figure. When I played as a child, I always granted this figure the special power of "never being knocked down." So no matter who or what this figure encountered, it could never be knocked down!
Thanks to LRG member
Uoozuman
, I was actually able to share this story, and the impact Kinnikuman/M.U.S.C.L.E. had on my childhood, with one of the creators of Kinnikuman/M.U.S.C.L.E., Shimada-sensei of the famed Yudetamago.
In fact, if it weren't for Yudetamgo and Kinnikuman, Toypedia wouldn't exist!