This entry contains pictures and descriptions of unidentified, miniature figures. If you have any information or hunches about the identity of any of the following figures, please contact us. Currently, minifigures are no longer being added to this entry, but are documented with a solo entry.
-----
Tiny Orange Creature -- 15/01/08
Update -- 10/31/10
Identified as the character
Garuban
(www.clubtokyo.org) from the Japanese television series
Captain Ultra
(Wikipedia). We're still not sure if the following figure is a bootleg of a legitimate Garuban keshigomu minifigure.
Credit: rogerharkavy via Flickr.
This small orange figure was a surprise addition to a lot of M.U.S.C.L.E.s purchased from a US seller on Ebay. Standing at around 1" tall this strange little creature has no markings other than "HONG KONG" stamped on the back. It is similar plastic to M.U.S.C.L.E. figures but the color is a lot duller than an orange M.U.S.C.L.E. as the following comparison shows:
-----
Dinosaucers Mini-Figs -- 05/18/08
Dinosaucers
was a short-lived toy line based on the 1980's cartoon of the same name. Over the past few months, a few Dinosaucers mini-figs have popped up in UK eBay lots. The figures stand approximately 2.5-3" tall and are made of a
hard plastic
. The trade markings on the figure are: © 1988 / CC TELECON / INC CE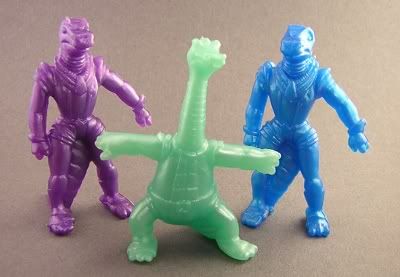 According to
a post by CheapToyMan at the CheapToyLand forums
, these figures are made by a company called Yolanda. There appears to be a very similar Toxic Crusader/Avenger toy line as well also
documented at CheapToyLand
.
-----
Troll/Goblin like figure -- 15/01/08
This figure turned up in a lot of Italian Army Ants, it is similar in size to M.U.S.C.L.E. figures and the plastic also is a similar density. Semi-translucent in a pink 'fuscia' color bearing no markings, this is a very cool and nicely detailed figure:
And a couple of close ups for good measure: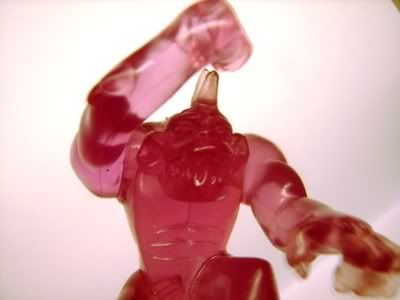 -----
Brown Gizmo-like figure -- 12/06/07
This figure is owned by a collector who goes by
Meatcutta78
at the
Little Rubber Guys forums
. Here's what he has to say about this enigmatic little figure.
Here is some history about this little fella. I saw this little gizmo sculpt in an auction on eBay some time back. He was mixed in with a M.U.S.C.L.E. lot, but I noticed him right away. The thing is I have no idea where or what he came from.

He is made of hard plastic and has no trade markings. The only other bit of information worth noting is the seller was from Canada.
Thanks for the information Meatcutta78! Let's take a look at some pictures, also given to us by Meatcutta78.
And we can see from the following comparison pic that Gizzy stands about 1.5" tall.