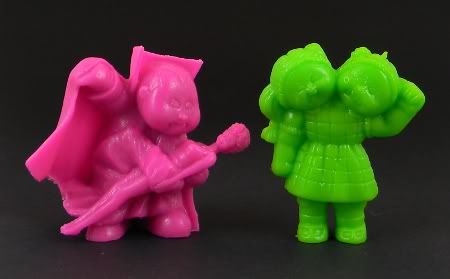 Toy Line:
Custom
Garbage Pail Kids Cheap Toys
Sculpt Name:
Nasty Nick
Color:
Magenta
Collector's Note:
Did you catch that in the details above? This
is
a custom piece. It pretty much came out of no where. A member of the mini figure toy community, who goes by the handle Muscle Things, commissioned the piece from a professional toy sculptor who prefers to remain anonymous. This individual sculpted Nick in wax, and Muscle Things himself made a mold of the wax master and has cast the piece in magenta and Chocolate brown (and possibly other colors). Muscle Things is well known in the community for making high quality reproductions and
custom pieces
cast in an incredible rubbery plastic. For lovers of Japanese keshi mini figures, rubbery plastic is a must.
This Nasty Nick piece is phenomenal. The scale and style match perfectly the other Series One Cheap Toys which it was intended to mimic. In fact, if a non-Cheap Toys collector were to see this piece, I'm certain they would be unable to tell it was not part of the original serious. This is what I have always looked for in a true custom figure, and it pleases me to no end. Don't get me wrong, I love kitbash figures and amateur custom sculpts as much as the next collector, but as a vintage mini figure collector there's nothing like seeing a completely new piece that looks like an authentic production figure added to the line. (Garbage Pail Kid purists may disagree.)
Furthermore, the sculpt itself is amazing. The level of detail is second to none of the other series one sculpts. When I first learned of this figure, I was shocked that this was the character commissioned. It seems to me that it would have been one of the toughest GPK characters to interpret into a 3D sculpture. The cape and doll figure at that scale would give any sculptor fits, but our anonymous sculptor nailed both of those features perfectly. Everything about this figure is a win, and I'll just let the pictures do the rest of the talking.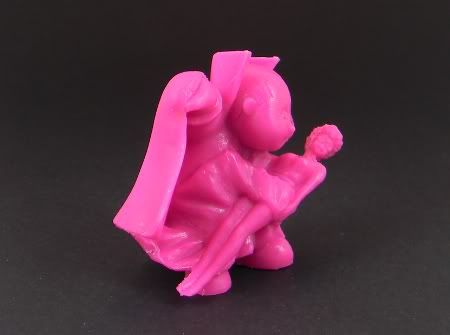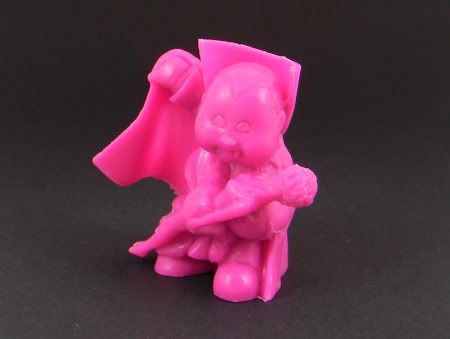 And here's some additional comparison pics with other S1 Cheap Toys.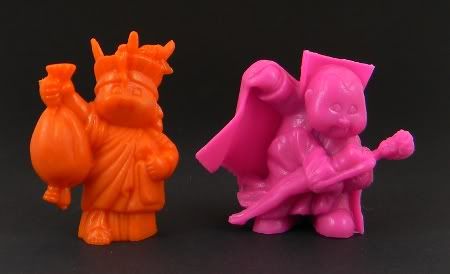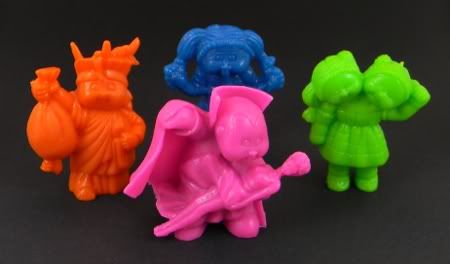 This is a rare gem and should be appreciated as such. I don't know of any other mini figure toy line that has a similar custom piece. The closest to my mind would be
the Clawshine mini figure
sculpted by
Jason Frailey
and molded and cast in resin by
TGB Customs
.
And as cool as that piece is, it is slightly different from Nasty Nick in two ways: It's based on a mashup of two Kinnikuman characters who both already have several mini figure sculpts to their name, and its style is slightly more "cartoonish" than the original Kinnikuman figures. Of course, that is all by design. Which again serves to underline the uniqueness of this Nasty Nick piece; It looks and feels in every way (except for color) like a GPK Cheap Toys figure. (Another similar example that comes to mind are
the Zoomoth figures
.)
Finally, from what I've been able to gather from Muscle Things, don't expect any other commissioned pieces in the future. All the more reason to value this beautiful Nasty Nick.